Condemn

|

Magic: The Gathering
Formats Condemn is Legal in
Block

Standard

Modern

Legacy

Vintage

Commander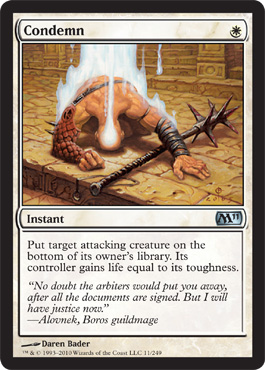 Official Oracle Text for Condemn
Card Text:
Put target attacking creature on the bottom of its owner's library. Its controller gains life equal to its toughness.
Flavor Text:
"No doubt the arbiters would put you away, after all the documents are signed. But I will have justice now."
—Alovnek, Boros guildmage
Official Rulings for Condemn
8/15/2010 : The affected creature's last known existence on the battlefield is checked to determine its toughness.


---
Comments on Condemn
Feel free to post any comments or questions you have on Condemn. Please be respectful of others. Any spam or trolling posts will be removed. Repeat offenders may be banned.