---
Friday Night Magic (FNM) is a great way to test your chops against other magic fans. It throws you into the thick of building a strategy from nothing, dominating opponents, and being destroyed when your opponent throws down the one card you can't counter. It's also a great way to test out new strategies with new cards, or in this case, see how other MTG players have refined theirs. I went to my local FNM to see what some other players are doing with Theros.
Overall Strategy
The most common strategy I've seen so far was that of a classic white/red deck. Unload as many low level creatures as possible to overwhelm before opponents can do anything worthwhile to counter. Simple, vicious, and when it worked, it really worked. One player I observed used this strategy and it went well for him. It took him a few turns to fully develop it, and I was surprised it worked, but you can't argue with results. Here's where I started to take notice.
The Combo didn't do a ton of damage, and I didn't think much would come out of it. It took until turn three to fully develop, but it was a decent example of a force multiplier that low level attack decks need in order to survive. The player who dropped it was using a couple Yoked Ox cards for defense, and eventually dropped an Akroan Hoplight, which helped him tremendously. He played some other low level cards like: Calvary Pegasus, Fleetfeather Sandals, (multiple) Lightning Strike, Gift of immortality, and Dauntless Onslaught. He continued to build and buff until he had a full blown army, with too many creatures for his opponent to block. Don't worry, I won't bore you with the rest, But it was a tried and true strategy that won't win on any pro tours, but it was effective at the local level.
The best (and most expensive) way to win at tournaments is to find a legendary card that is so absurdly good that you have no choice but to build your entire deck around it. Here's three that I think are definitely worth some thought when it comes to overall deck strategy.
---
Colossus of Akros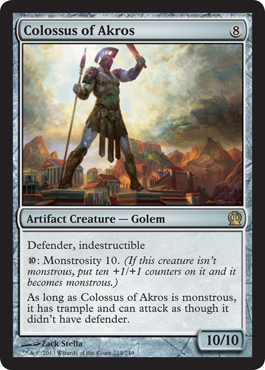 Yes it costs 8 mana to get out. But we know there are always ways around that, and an astute player could have this card on the field much sooner. I like it because it's indestructible, and as soon as you get to 10 mana, it becomes monstrous with 10 separate 1/1 counters on it. Ten. Think about it, if used with the right buffs you could rip an enemy apart in one fell swoop.
---
Elspeth, Sun's Champion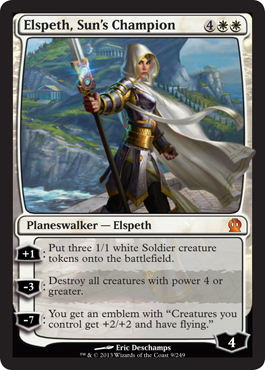 Elspeth has quickly become the poster card for Theros, so I won't go into any detail because we all know what she's capable of. All I'll say is if you don't have it, get it. Seriously.
---
Medomai the Ageless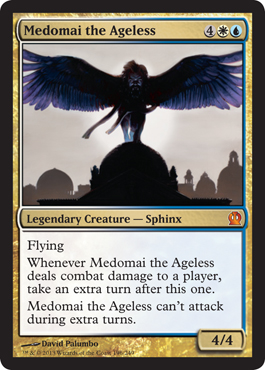 Let's say you have lots of low level attackers and only a couple legendaries. Medomai better be one of them. It's simple, find a way to get it to give damage. I don't care how many buffs or attackers you need to use, just do it. If Medomai deals damage, you get another turn. If there was ever a way to turn the tides in your favor, this is it.
---
There are plenty of strategies and schools of thought when it comes to magic, and even more when a new block comes out. It's all about finding a strategy, testing it, and adapting to what your friends and opponents are using. I only used one example of what I witnessed at my local FNM, but I want to hear more. If you think yours is the best, comment. Tell me about the perfect string of luck you got which allowed you to turn the tides in your favor, I want to know about it. Turn yourself into the MAGIC guru you know you should be.
---