Fix My Deck! The Black Plague
---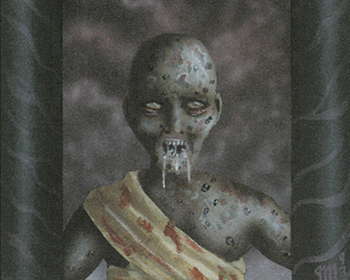 As players, we occasionally find ourselves devoted to an idea that we think will dominate the table and it ends up getting crushed in every game. Sometimes, we realize it will never work (say 20 elder dragons, 40 lands and nothing else) and walk away, but other times it may just need small tweak and a second set of eyes to become the powerhouse we wanted.
That said, I'm fascinated with Pestilence and have been trying for years to put together a deck that takes advantage of this card to the fullest. Pestilence is one of my favorite cards by far. It can be a boon against token generators, clearing an opponent's stock of creatures with just two or three mana. It's remarkably flavorful, killing everything and everyone indiscriminately, like a real plague! Lastly, it's just so much fun. Damaging yourself is usually a foolish option that should be avoided whenever possible, with Pestilence there's a brilliant possibility that you and your opponent could both end up at zero life, bringing the game to a rare draw (for something more paradoxical than a draw, rule 104.3f states "If a player would both win and lose the game simultaneously, he or she loses the game"). Why would you ever want to bring the game to a bizarre draw/double loss like this? Magic: The Gathering can be far more entertaining if you're not trying to win.
So here's what my Pestilence deck has become as of late…
The Black Plague Card List (71 Cards +4 Card Sideboard)
First, I'll dig in to what works. Pestilence and Stuffy Doll are an insane duo. The damage from Pestilence is effectively doubled against any opponent you've chosen and the indestructible creature is tricky to remove from the battlefield, which allows the enchantment to remain there too. Circle of Affliction negates the damage from Pestilence and coupled with Sanguine Bond, saps your opponent as you gain life. Treacherous Link is perfect for vanilla creatures that can't get around the Stuffy Dolls, turning them into hurt-generators. Once the proper pieces are in place, the damage becomes exponential. Cruel Edict forces your opponent to sacrifice a creature, a huge difference from destroying a target. Because the creature itself is not a target, that pesky Akroma, Angel of Wrath that just won't die will finally vanish. Still, there's a few of those quick-kill cards for close encounters. Cabal Coffers, Dark Ritual, and Burnt Offering give the option to really blast the Pestilence in a pinch. The sideboard comes in handy against green and white decks, crippling either color with Gloom or Deathgrip.
Despite the damage that this deck can inflict, there are some very evident problems. First and foremost is the mana curve. The Cemetery Gate isn't too shabby for a blocker, but it's the cheapest creature at three mana. Everything else requires a third-turn Dark Ritual or some welltimed Cabal Coffers to get moving. This usually means you have nothing on the battlefield save lands for your first three to five turns, making this deck incredibly slow to defend itself. While you're able to dish out huge helpings of hurt in the endgame, it's often the early swings from 2/2 creatures that leave you in a rough spot later. Against an aggressive red deck, you've often taken too much damage to risk activating Pestilence more than once or twice and by then, you're a Lightning Bolt away from a loss. Creatures with flying and toughness above five survive Pestilence and go right over the Stuffy Dolls; Herald of Leshrac often arrives too late to do anything about it.
Help me make some much-needed changes to this deck and share any other ideas that you conjure up along the way. Keeping the deck mono-black helps with the Pestilence (Plains are not really helpful trying to pay for black mana) but does limit things in other ways, so feel free to pull in something else if you find a particularly deadly combo. Maybe I'm going about this whole thing the wrong way.
Also, feel free to discuss your favorite cards and share a deck in need of improvement! I'd like to see what everyone else is up to with their favorites.
---